8 Skin Tips for the Menopausal Woman
Healthy and youthful skin is what most women want. However, as a woman ages, the signs of aging become noticeable on the skin. Such things as wrinkles, fine lines, age spots, and dry and dead skin become apparent. It has been proved that menopausal aging effects are among the many reasons that increase the chance of depression in older females. Since the decreased level of reproductive hormones in menopause
is associated with reduced collagen production, the skin of the face and hands get adversely affected.
Hopefully, with the following skincare tips, you can slow down your aging process and get the youth-full, smooth, and supple skin that you deserve.
1. Drink 7-8 glasses of water each day
Not only is this skincare tip beneficial for menopausal women, but it is also equally effective for women of all ages, races, and shapes. Our body is made up of water, and it needs a sufficient quantity of water to stay healthy and young. . Drink water at regular intervals to see a noticeable difference in your skin and body. Get a tumbler and fill it with water keep it near and take sips throughout the day.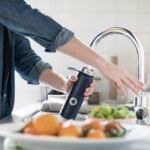 2. Do not smoke
The phrase 'smoking kills' fits perfectly for your skin. The more you smoke, the more you speed up your aging process and the breakdown of collagen. If you are a smoker who wants beautiful young-looking skin, you might want to consider quitting smoking, my friend! And if you managed to stop smoking, good on you!
3. Avoid going out in the sun.
Most of us have heard that sunlight is healthy and provides our body with vitamin D. Of course, this is true, but only when you get a dose of the sun for 15 to 20 minutes in the morning. Spending more time in the sun is not a sage step. If, however, you must go out in direct sunlight, make sure you apply sunscreen on the exposed parts of your body and wear clothes that shield you from the harmful ultraviolet rays of direct sunlight.
4. Develop the habit of healthy eating
You are what you eat. Whatever you are going to eat will ultimately be reflected in your skin. So, it's better to avoid fast food and sugar. Keep your diet simple and healthy, and focus on eating fruits and vegetables. Cleansing your diet will bring back your youth and glow.
5. Follow a good skincare routine.
There are gazillions of beauty products that claim to be 'age miracle.' Choose your products wisely and develop the habit of cleansing and moisturizing your skin every once in a while for healthy and supple skin.
6. Don't forget to take your supplements.
After menopause, just cleansing the diet might not be enough. You need to take collagen supplements, multi-vitamins, multi-minerals, and antioxidant supplements to reverse the effects of aging.
7. Eat soy products
Soy products are beneficial in alleviating the symptoms of menopause, but they are also great for your skin as they are rich in isoflavones. Make sure to add soy products such as tempeh and tofu to your diet.
8. Stay away from stress.
Stress makes you age faster and is also related to many health problems. So, take your time out to do activities that relieve your stress. A stress-free life is a key to youthful and healthy skin and body.