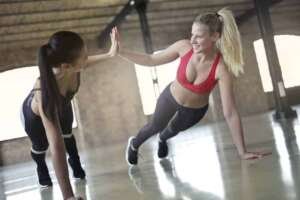 Zumba Dance and Weight Loss: Is It Really Possible?
In simple words, Zumba dance is one of the most popular aerobic fitness programs that unite vibrant music with Latin dance. Due to the changing music during each session, you're able to work out your entire body at the end of the session. Zumba dance is a great cardio exercise that improves your pulse rate and also helps you lose lots of calories in a very short period.
Zumba dance is a 60-minute workout exercise that's irresistible for everybody who enjoys dancing and music. Not many can resist the dancing beats played during each Zumba session. Another exciting thing in regards to Zumba dance is that you can focus on specific muscle groups like your legs, arms, buttocks, etc. to achieve your desired weight loss goal.
Why Should You Choose Zumba Dance for Weight Loss?
1. Fun Way to Lose Weight
If you're one of those who find it difficult to get out of your bed and see gym exercises as boring, Zumba dance can be your ideal option to lose weight quickly. By combining music with choreographed dance moves, Zumba sessions can be much more easy-going and fun. Plus, you do not even need to be a dancing superstar to participate in these sessions.
2. Lose More Fat in Less Time
Zumba can be incorporated with virtually every type of exercise that involves all the body parts. The squat and lunge move especially help you lose unnecessary fat quite rapidly.
3. Workout your core
Zumba dance is among the most effective workouts when it comes to strengthening your core muscles. Besides, it can help tone your thighs and legs whilst you're losing your weight. The moves and jumps choreographed during each session help strengthen your hamstrings.
4. It motivates you to lose weight through social interaction
Since Zumba dance is primarily done along with a group of individuals, it encourages you to continue with your weight loss goals in the company of your friends and loved ones. Plus, it also provides you with an opportunity to interact with other like-minded individuals and make new friends.
5. No age restriction
Zumba dance has little to no impact on your joint muscles. It enhances your blood circulation rate and also minimizes arthritis pain. Thus, people of all ages are welcome to join Zumba to achieve their weight loss goals.
When you continue your Zumba dance session, you won't even notice the amount of weight you've lost! According to experts, you can burn up to 1000 calories during each Zumba session. Just imagine how many calories you will be able to burn in a period of 30 days! This should be enough to motivate you to continue with some more sessions. The sessions are mostly done in a non-intimidating surroundings. Zumba is also one of the easiest workout programs available to lose weight at the moment. So, turn on your favorite music and begin your Zumba session. It can make you sweat inside minutes. You may even develop your own Zumba moves to stay healthy and motivated.