https://www.propublica.org/article/columbia-obgyn-sexually-assaulted-patients-for-20-years?utm_source=substack&utm_medium=email
by Bianca Fortis, ProPublica, and Laura Beil, photography by Hannah Whitaker for New York Magazine
This story includes detailed descriptions of sexual assaults.
Laurie Kanyok was 38, a professional dancer on the cusp of retirement, when she learned she was pregnant. She had already suffered one miscarriage and had recently undergone a spinal treatment that she feared would increase the risk of birth defects. Kanyok booked an appointment with an obstetrician, Robert Hadden of Columbia University. She felt grateful to be in the care of someone who had spent his entire career at such a distinguished institution.
<script type="text/javascript" src="https://pixel.propublica.org/pixel.js" async="true"></script>
first, Kanyok liked Hadden, who had a soft-spoken, fatherly way. With his prim, grayish beard and wire-rimmed glasses, he reminded her of "a skinny Santa Claus," as she later put it. But there was one time when, heels in the stirrups, she thought she felt a flicker of something moist on her vagina. During another appointment, Hadden palpated Kanyok's cervix with such force that his fingers lifted her from the exam table. She heard him moan.
Kanyok dismissed Hadden's strange behavior, focusing on her baby. "You put yourself aside at that point, right?" she says. "You want to see a heartbeat. You want to know that the umbilical cord isn't wrapped around the neck. And then you want to know that you're going to get to the finish line, deliver and go home. That's it."
Six weeks after giving birth to a daughter, on a Friday in late June 2012, Kanyok returned to Columbia's suite of offices on East 60th Street for a checkup. She looked idly at her phone as Hadden examined her. He assured her that all looked good, and the nurse chaperoning the exam left the room. Hadden started to follow her out. Then he paused, turned, and told Kanyok that he'd forgotten to check her stitches. He instructed her to lie down again.
Beneath the paper blanket covering her knees, between her legs, the assault this time was unmistakable. Kanyok jolted back and saw Hadden's face surface, bright red. She froze as he chattered nervously and performed what he told her was a breast exam. She texted her boyfriend. "Dr Hadden just licked my vagina," she typed. "I'm shaking And freaked out."
Kanyok's boyfriend ran to the street and handed $50 to a black-car driver for the short ride to Hadden's office. He collected Kanyok and called 911 twice, first on the drive back to their apartment and again once they got inside. He struggled to articulate what had just happened. "How do you even verbalize this horrendous act of an OB-GYN from a super-renowned place like Columbia?" he recalls. He told the 911 operator that his girlfriend's doctor had "touched her orally."
Soon, Kanyok and her boyfriend buzzed up two NYPD officers. As the police took their statements, Kanyok's phone rang. It was Hadden. He left a voicemail, which Kanyok played for the group on speaker.
"Hi Laurie, it's Dr. Hadden calling," he said. "It's like 4:30 on Friday. You know, I just got word that you called the office and you're upset and you're calling the police. What — what the heck happened? What's going on? Please, can we talk? Um. If you can, please just give the office a call and, you know — or come back and talk face-to-face. I, I, I don't — I don't understand. I just know that — I just got word from the — first, from the secretary, and then from our office manager and the nurse. So I'm very upset. I don't know what's going on. So please, please call me back. All right. Take care."
The officers glanced at one another and then at Kanyok. "Fuck him," she remembers them saying. "Let's go get this pig."
Hadden was arrested at his office later on Friday. Mary D'Alton, the head of Columbia's OB-GYN department, went to the clinic when she heard police were on the scene. Meanwhile, a squad car took Kanyok to St. Luke's Hospital for a rape-kit examination, then to meet with a prosecutor. She returned home around 11 p.m. After a long shower, she peeked in at her baby. "My daughter's asleep," she recalls thinking, "and I am safe. Everybody is safe."
Kanyok didn't know that Hadden had already been released from custody. On Saturday, police spoke with the department's administrator, Jeanne Dellicarri. On Monday, Hadden received a hand-delivered letter from Columbia. "Dear Bob," it began. "I write to inform you of the position of the University and NewYork-Presbyterian Hospital with respect to the allegations against you currently being investigated by the New York City Police Department." The letter said that if Hadden had a chaperone with him while examining patients, and if he complied with all university and hospital policies, he was free "to resume clinical activities."
The document was signed by Hadden's immediate supervisor, John Evanko. He CC'd D'Alton; Robert Kelly, then the president of NewYork-Presbyterian, the Columbia-affiliated hospital system in which Hadden was an attending doctor; and Lee Goldman, then the dean of Columbia's medical school, where Hadden was a member of the faculty.
On Tuesday, Hadden was back in the exam room. Columbia let him continue practicing for another five weeks. Eight patients say he assaulted them in that time.
---
Columbia University — where Robert Hadden spent his entire medical career — has never fully accounted for its role in allowing a predator to operate unchecked for decades. To date, more than 245 patients have alleged that Hadden abused them, which by itself could make him one of the most prolific sexual assailants in New York history. But the total number of victims may be far higher. On any given day during his two decades of practice at Columbia, Hadden saw 25 to 40 patients. Tens of thousands came under his care. A baby girl he delivered grew up to be a teenager he allegedly assaulted.
Hadden, 65, was sentenced in July to 20 years in federal prison — the result of a long, arduous process that Columbia often undermined. One of the country's most acclaimed private universities was deeply involved in containing, deflecting and distancing itself from the scandal at every step.
In agreeing to pay $236.5 million to resolve lawsuits brought by 226 of Hadden's victims, Columbia admitted no fault, which is in keeping with public statements over the years placing the blame for what happened solely on Hadden. But the university's own records show that women repeatedly tried to warn Columbia doctors and staff about Hadden. At least twice, the fact that Hadden's bosses in the OB-GYN department knew of the women's concerns was acknowledged in writing. They allowed him to continue practicing.
Once Hadden's crimes became clear, Columbia worked to tamp down the crisis. It waited months to tell his patients that he was no longer working, and then sent matter-of-fact letters that omitted the reason. After police and local prosecutors began to investigate Hadden in 2012, Columbia failed to hand over evidence in its possession, despite subpoenas that compelled it to do so. The university also did not tell the district attorney when more patients came forward — witnesses who could have strengthened the case prosecutors were trying to build. The DA found Columbia's conduct so concerning that the office launched a criminal investigation into the university itself, along with the affiliated hospital where Hadden had admitting privileges. The inquiry found that Columbia had, by neglecting to place document-retention holds, "intended to destroy" emails written by Hadden and his former colleagues who had left the university. The DA found the records because they were "inadvertently left on an old server." (Columbia disputes this.)
The local investigation of Hadden ended in a 2016 deal that allowed him to avoid serving a single day in jail. Cyrus Vance Jr., who was DA at the time, says that if Columbia had fully cooperated, it might have made a difference in his office's decision to accept a plea. "Obviously that did not happen," Vance says. His former deputy, Karen Friedman Agnifilo, is more direct. Columbia, she says, "didn't have clean hands here. If they didn't know, it's because they chose not to know." Hadden remained free until his victims began to go public in such numbers that federal investigators took up the case in 2020 and secured his conviction.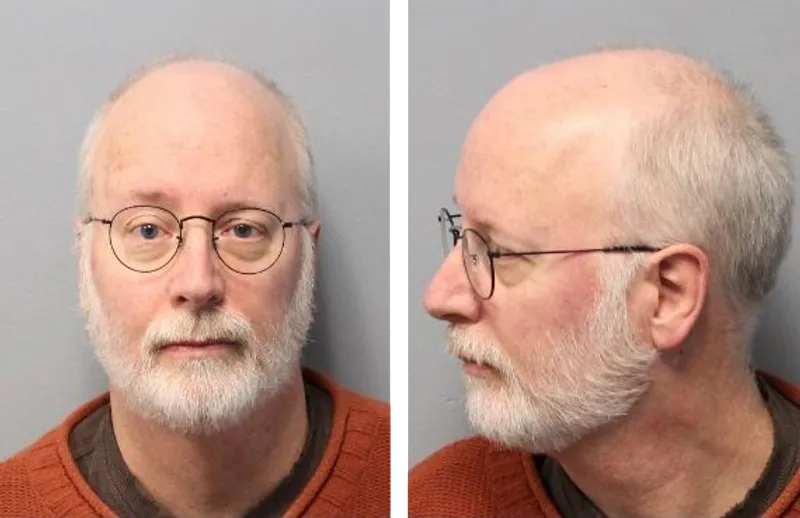 The mug shot from Hadden's 2020 arrest Credit:Courtesy of the U.S. Attorney's Office for the Southern District of New York
In recent decades, several university medical systems have provided cover for abusive doctors whose victim counts run well into the hundreds. Columbia's failures stand out even in this grim company. Unlike at Michigan State — where Larry Nassar sexually assaulted young gymnasts under the guise of medical care — no Columbia administrators are known to have lost their jobs. Unlike at the University of Michigan — where an athletics department doctor abused mostly male students — Columbia never commissioned an independent investigation into what happened under its roof. Unlike at the University of Southern California — where a staff gynecologist's abuse led to a billion dollar settlement— Columbia's president, Lee Bollinger, did not resign when the enormity of Hadden's crimes came to light.
Instead, Bollinger retired in June, celebrated by a university that continues to uphold itself as a place where eternal virtues are taught and practiced. The announcement of Bollinger's successor, Minouche Shafik, noted that her most recent book is "What We Owe Each Other," "in which she calls for a better social contract to underpin our economic system and challenges institutions and individuals to rethink how we can better support each other to thrive." Meanwhile, in the Hadden case, Columbia's pattern of defensive behavior is ongoing. The university still hasn't informed patients that their former doctor is a convicted sex offender. And Columbia is aggressively fighting new lawsuits from victims, arguing in one case this year that it should not be held liable because Hadden's actions were "outside the scope of his employment."
Columbia has long been one of the most powerful and respected institutions in New York. It has a $13 billion endowment, it is one of the city's largest private landowners and its board of trustees is stacked with titans of finance and government. But the university declined to make any of its leaders available for interviews. In emailed statements, an unnamed spokesperson wrote that Columbia was "profoundly sorry for the pain that Robert Hadden's patients suffered as a result of his abhorrent misconduct," before reemphasizing that he "purposely worked to evade oversight and engineer situations in which he would abuse his patients." The statement continued, "We also deeply regret, based on what we know today, that Hadden saw patients for several weeks following his voided arrest in 2012."
The disconnect between Columbia's approach and its stated commitment to "the highest standards of ethical conduct" remains inexplicable to many people involved in the Hadden affair, including Agnifilo.
"I'm struggling for words because it's actually head-scratching," she says. "They are the best of the best. How could they put someone back the next day after she went to the police? It makes no sense to me. It would be one thing if they just said, 'You know what, we talked to her — we didn't believe her.' But they didn't even do that." She is referring to the fact that Columbia's internal investigation of Kanyok's allegations failed to interview Kanyok herself.
We attempted to contact more than 100 of Hadden's former colleagues. Only one doctor, Jennifer Tam, would speak openly. She is no longer practicing medicine. "I would like to think if I was still at Columbia, I would go on the record, but I could see how the threat of repercussions would keep people from speaking," she says. She recalls being surprised to learn that Hadden had been arrested — and then thinking about how easily any concerns about him could have been rationalized in the workplace she had known. She says there was an ethos at Columbia of keeping quiet about anything that could reflect poorly on the university. "If there was something that wasn't perfect, you better not talk about it," she says. "We don't want to ruin the reputation."